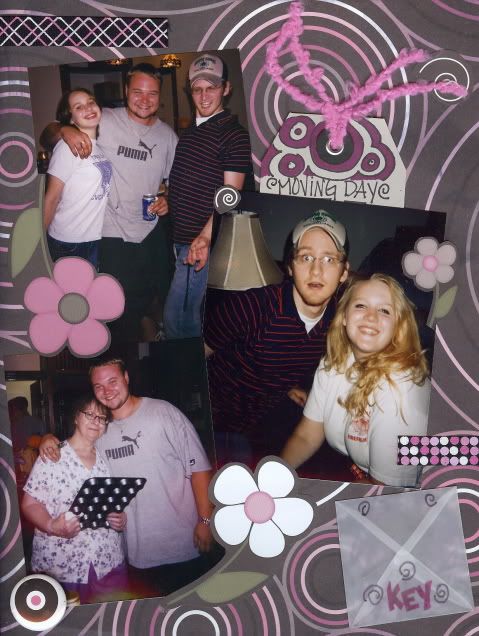 August 2004... moving! Ugh!!!!! This was horriffic! Our old landlords were trying to screw us so we packed up and moved in one weekend. Problem was the new place we were moving into was brand new... and not ready yet. Not for 2 weeks! We had to put everything in storage for those 2 weeks.
Moving in was hot! Your evil humid 95 degree Ohio August afternoon. We had gathered a big group of people who we promised free food and cold beer to help us unload storage and carry everthing upstairs to out loft.
It was a long day! These pictures my mom took of my brothers Matthew & Ede, my sister Hannah and my grandma and I goofing off and being silly trying to beat the heat.
Page was created for the K: Knots, Kinetics and Keepsakes challenge at the classy scrapper forums.
Paper is imagination project Murray hill. Magic scraps embellishments. Envelope contains a spare key to the loft. I doodled on the tag. Ribbons came with Coordinates Collections January kit.