Friday challenge:
What were you like in high school? How have you changed? How are you still the same?
I guess Im pretty much the same. Probably 25-30lbs heavier, not quite as silly/crazy. I think I restrain my "silliness" too much in order to be a "grown up". Im more worried about what others think and less ME. I definately have more style. (I graduated almost 10 years ago.. ouch!!) I wish I allowed myself to have more fun like I did then.
***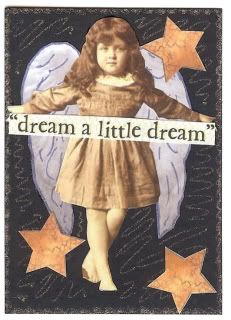 This is an Artist Trading Card I made last week. As my husband says... that's one of those creepy little girl collages. hahahaha! He is right... they do look sorta creepy.
This is actually my first collage ATC attempt. I was a decoupager LONG before I started scrapping, so its not uncommon to me to collage. I just dont have any of the things anymore.
This is just a basic one... I was trying to see what I could do. Its okay. I cant wait to work more with this medium!